The Moreton Bay Islands which consist of Moreton Island, Russell Island and Stradbroke Island offer a wonderful range of island experiences all so close to the capital city of Brisbane. You can skip over to many places on a vehicle barge for a day at the beach, or stay longer at one of the many camping grounds, hotel-motels, backpacker hostels or island resorts such as Tangalooma Island Resort. Most Moreton Islands accommodation is within easy walking distance of the local beaches.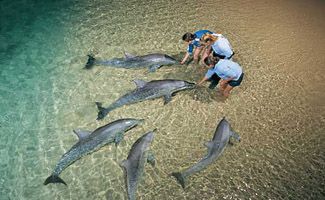 Moreton Island one of the largest sand islands in the world, is 38 kilometres long and predominantly made up of National Park, Moreton Island is truly a natural beauty. Just 35 kilometres and a two-hour barge trip from Brisbane, Moreton Island offers a range of affordable accommodation, from camping to cabins and resort holiday units. For the keen surfer you must not miss the waves at North Point, Honeymoon Bay and along the untouched 36 kilometres of the island's eastern beach.
Divers can explore the breathtaking offshore reefs including Curtin Reef and the Tangalooma Wrecks, which offer an assortment of fish life and coral formations. There are many activities that the island hosts including 4WD tours, fishing, sand tobogganing and many more.
Moreton Bay laps against the shores of the island's western seaside towns creating the opportunity for vast fishing activities.
Two huge sand islands form the eastern side of beautiful Moreton Bay. These are Moreton Island and Stradbroke island. Both islands have a landscape that can be found almost nowhere else in the world. Both islands feature miles of magnificent ocean beaches, inland lakes , marshes , sandblows,rainforests and bushland which are home to many of Australia's unique wildlife species. Both have residential and resort areas on them and are extremely popular holiday destinations among Australian families.
Along the ocean beaches, the fishing is legendary with surf fishermen scattered all along the length of the ocean beaches. Bushwalkers love the interior with their local scribbly bark gums and grass tree forests and four wheel drive aficionados love the challenge of driving through the sand hills. Both island a connected to the mainland by a vehicular barge service. The barge departs from Cleveland on the mainland.In the case of Moreton Island, this service calls at Tangalooma Resort which is famous for its tame pod of wild dolphins which visit at dusk every day for a free handout of tasty fish.Tangalooma was the site of Australia's last whaling station which was forced to close after its operators wiped out almost the entire population of eastern Humpback whales. When whaling ceased, it is estimated that fewer than 200 animals were left. Fortunately for us, this remnant population has now rebuilt and over 15000 whales now migrate once again along the beaches of beautiful Moreton Island.
Contact Us For All Of Your Travel & Holiday Needs.