MOUNTAIN VILLAS
48 Luxury 2 and 3 Bedroom Villas with rainforest and mountain views;
Choice of Rainforest or Valley Views
Fully self-contained and equipped
Every bedroom with ensuite
Open plan living with vaulted ceilings
High definition LCD TV, DVD and Austar access
Phone and data network
Contemporary decor & furnishings
Large entertainment deck with spa bath, outdoor setting & BBQ

Reverse-cycle air conditioning and cosy gas fireplace
Undercover carport
Laundry facilities
A short walk to O'Reilly's Rainforest Retreat and Mountain Cafe
Infinity edge lap pool and children's pool
O'Reilly's Lost World Conference Centre and Spa
Lamington National Park Road via Canungra, LAMINGTON NATIONAL PARK
O'Reillys Rainforest Retreat & Villas is located high in the Gold Coast Hinterland between Brisbane and the Gold Coast in Southern Queensland. Get close to nature, relax and unwind from the daily stresses of life.
O'Reilly's offers a range of guest rooms and villas for couples and families to cater to all tastes. Luxurious Canopy Suites through to the Mountain View Rooms to the comfortable Garden View Rooms.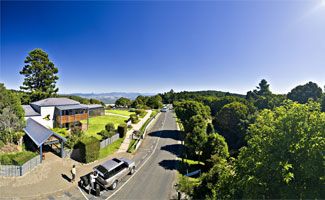 FACILITIES
Lounge & Library
Games Room
Dining Room
The Rainforest Bar
Mountain Café
Mini Mart
The Lost World Spa
Scrub Club (kids club) – Eco Rangers

Mobile Phone and Internet Access
Recreation Facilities

Pool and Spa area
Heated plunge pool
Sauna or hot tub
Children's wading pool
LOST WORLD SPA
A Day Spa in the rainforest, offering rejuvenation, relaxation and balance. They use Australian Sodashi products for their massages, therapeutic skin care treatments and Vinotherapy (anti-aging action of grapes).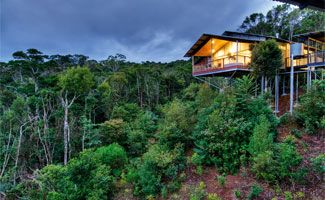 RAINFOREST RETREAT
Bithongabel Single Rooms
These Rooms feature a single bed, tea and coffee making facilities, small bar fridge, private bathroom and private balcony with views to the West.
Garden View Rooms
These motel style rooms feature red cedar shutters, hand crafted maple furniture and timber queen-sized beds, have private ensuites and views of the gardens around the guesthouse.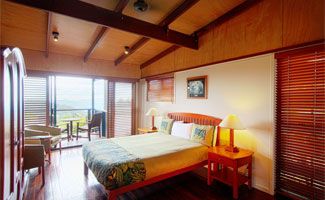 Mountain View Rooms
All Mountain View Rooms have a private balcony with views to the McPherson ranges. They have spacious high-set rooms with exposed beams, natural timbers, raked ceilings and private bathroom, a queen and single bed.
Two of these rooms are equipped for wheelchair occupation.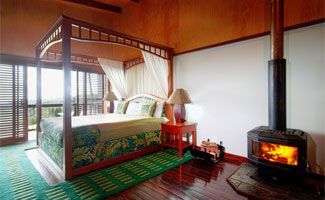 One Bedroom Canopy Suites
Comfortable living area with recycled timber flooring, lounge chairs, audio system, library and bar. The suites have four large balconies with spectacular views of the rainforest foliage and western mountain ranges. The bedroom features a king-size bed, sofa and a fireplace, bathroom with spa bath and views through a full-length picture window of the mountain scenery.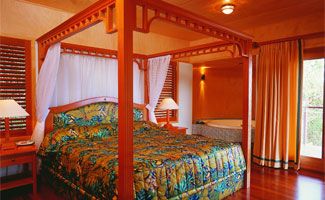 Two Bedroom Canopy Suites
Each unit has two bedrooms, two bathrooms, a separate living room and two way fireplace. The large decks, complete with private spa bath, look out onto the rugged McPherson Ranges to the west and provide uninterrupted views of the most magical of sunsets. Polished timber floors, cedar shutters and handcrafted Queensland Maple furniture, a mini bar and stereo in the living area.
The main bedroom has a king-size four poster bed with ensuite and direct access to the outside deck spa. The second bedroom features a king size ensemble bed that can be transformed into two large single beds.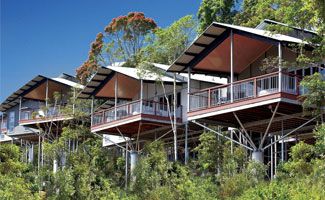 MOUNTAIN VILLAS
48 Luxury 2 and 3 Bedroom Villas with rainforest and mountain views;
Choice of Rainforest or Valley Views
Fully self-contained and equipped
Every bedroom with ensuite
Open plan living with vaulted ceilings
High definition LCD TV, DVD and Austar access
Phone and data network
Contemporary decor & furnishings
Large entertainment deck with spa bath, outdoor setting & BBQ

Reverse-cycle air conditioning and cosy gas fireplace
Undercover carport
Laundry facilities
A short walk to O'Reilly's Rainforest Retreat and Mountain Cafe
Infinity edge lap pool and children's pool
O'Reilly's Lost World Conference Centre and Spa